HISTORY

After serving in the US Navy Submarine division in WWII, Gene Glosson joined the J. Sklar Bakery Company of Boston, MA. in 1946 as a repair mechanic. He left J. Sklar and joined the Hobart Manufacturing Company of Boston MA as a service technician. He then helped open the Hobart Sales and Service office in Worcester, MA as their first service technician.
He was offered the Hobart agency in Richmond, IN and started Glosson Food Equipment. In 1953, he was called back to the US Navy Submarine service for the Korean War. After his return, he focused on growing the Hobart market for his agency.
Above: Gene Glosson poses in 1950 with equipment during his days as an independent, selling, servicing, and repairing commercial food equipment for regions of Massachusettes, Connecticut, and Rhode Island.
In 1956, Gene was offered the Hobart agency of Fort Wayne, Indiana, which covered 14 Northeastern counties. He sold the Richmond agency and moved his family and company to Fort Wayne. For the next 30 plus years, Glosson's Hobart Sales & Service grew and became well embedded as the premier company for sales, service, and parts of commercial food and restaurant equipment in the area.
In December of 1988, Gene sold the company to his son, John. In 1994 the company expanded with the addition of 4 more counties. In September of 1997 the company moved its office and headquarters to its current 25,000 sq.ft. location in Fort Wayne.
In July of 1998, the company acquired the assets and personnel of Hobart Corporation in South Bend, Indiana. The office covers seven counties in Indiana and one county in Western Michigan.
In 2003 Hobart Corporation expanded the Fort Wayne office Retail Sales territory with the addition of 5 Western Indiana counties.
In 2006 Hobart Corporation expanded the Fort Wayne office Retail Sales territory with the addition of 34 Indiana counties and 6 Central East Illinois counties.
CURRENTLY

Glosson Food Equipment is the authorized sales and service agency for Hobart Service, ITW Food Equipment, Hobart Food Equipment, Traulsen, Baxter, Vulcan, Wolf, Berkel, AND MORE! We provide professional food equipment service and/or restaurant equipment repair service on all brands of food equipment to the Food Service Industry for schools, health care facilities, supermarkets, restaurants, hotels, bakeries, delis, and any other establishment that serves or prepares food. We can help you with the installation of all food equipment such as dishwasher, bakery, cooking equipment, and much more.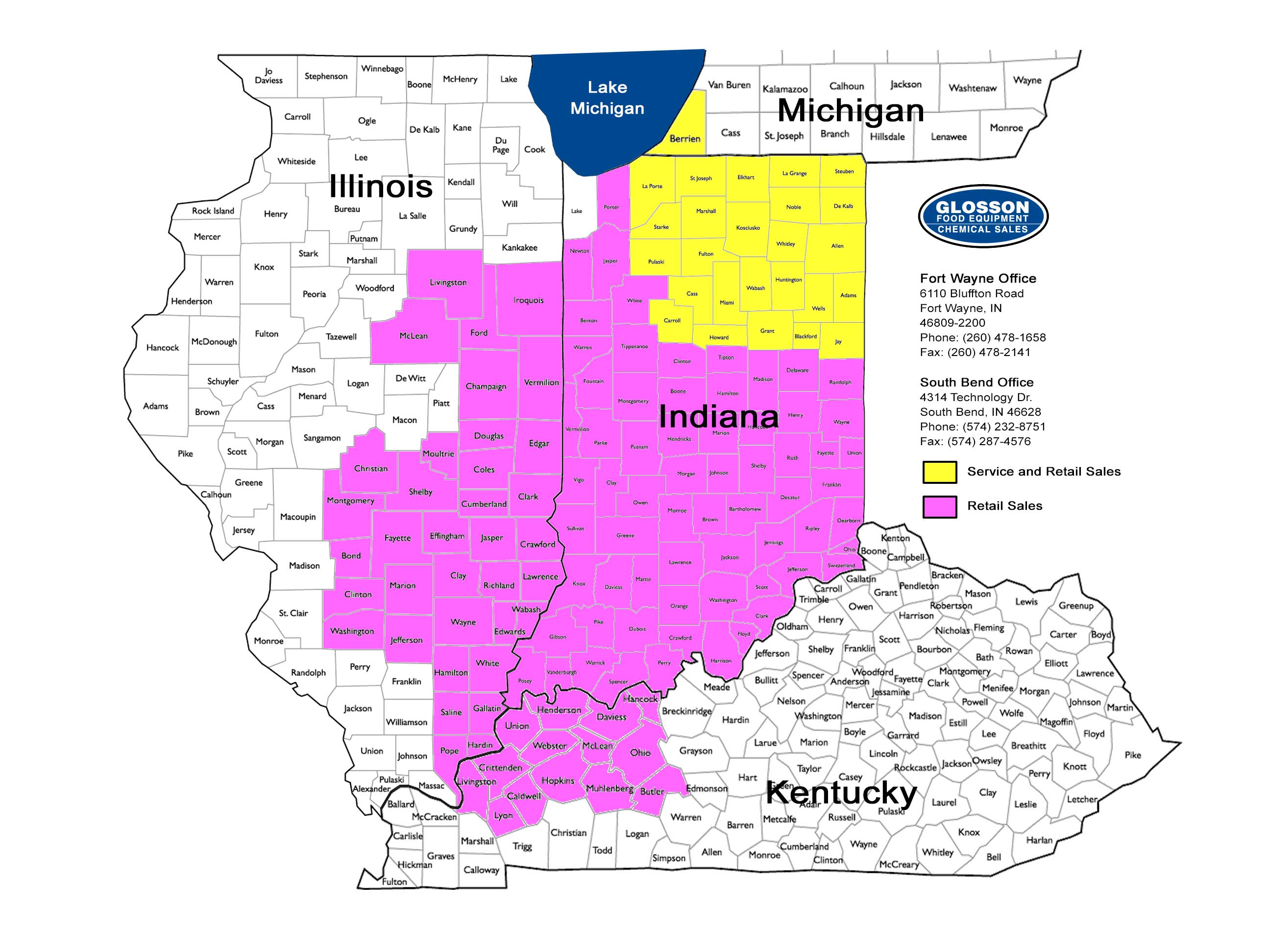 We specialize in the sale of new food equipment for the Retail Market, as well as reconditioned food equipment, refurbished by our own factory trained technicians.
Glosson Food Equipment sells all manufacturers parts and supplies for those that have their own in-house maintenance programs. We sell food equipment parts and restaurant equipment parts for all brands of equipment. Call now and ask for PARTS...(260) 478-1658

Chemical sales are also available by knowledgeable sales staff who can show you the best ways to keep your kitchen, laundry and food preparation areas sanitary and safe for your staff and clientele.
OUR MISSION IS TO PLEASE YOU...CALL NOW..(260) 478-1658